Dr. Selim Jahangir
Postdoctoral Fellow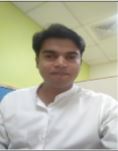 Dr Selim Jahangir is a post-doc at the Transdisciplinary Center for Qualitative Methods. His research interest is in the interdisciplinary fields of Population ageing, Social geography, Public health, and Gender and care. He is expertise in qualitative research and methods.
Contact: selimjahangir007@gmail.com
Field Site: Dhaka. Read more about his research here.